The editor is a tool that enables you to correct the plans when they are not cuttable due to an error.
It is accessed via the respective work line, when a red surrounding appears around the model. The Edit button can be found under the model. Click on it.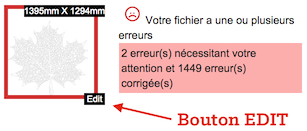 fig. 1: The Edit bouton
The editor window opens.
It consists of 3 components:
- The error bar that lists the errors corrected by the Contour Engine and those that require human intervention,
- The workspace that shows every corrected mistake, step by step,
- The toolbar which includes the 3 tools to fix errors: the filter, the selection tool and the editing tool.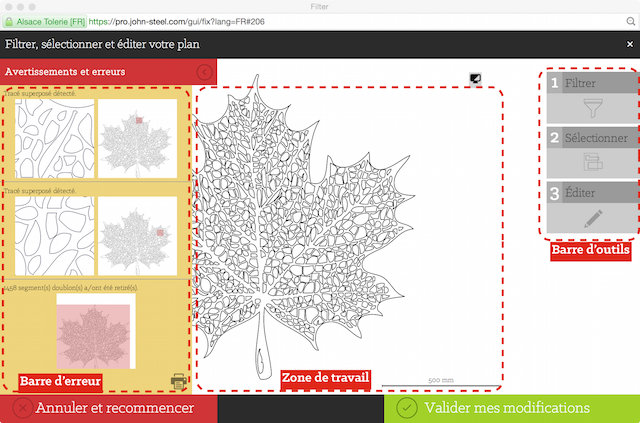 fig. 2: The Editor
The error bar
Handling Component
Once you open the editor, the error bar appears. After one second the pane slides to the left of the window revealing only an icon.


open / close icons
Export Component
At this moment you can choose between the following options:
- Either you want to make changes with your drawing program (which we recommend), as you can export the contents of the error bar in the form of a .pdf document using the print button:

export errors
- Either you want to make changes online (eg. for construction of users). Then you must read the rest of this article.
The work area
The work area is the central area where the modifications are registered, as you make changes to your plan. When you exit the editor, the deck of the incorrect plan is replaced by the edited one on the work area.
Some of you are used to working on a black background rather than a white one. That is why we have integrated a button for background inversion:

background inversion
The toolbar
The toolbar includes 3 tools:
- A filter to remove unnecessary layers
- A selector to select a specific area on a larger plan
- An editing tools to erase unnecessary construction lines.
These three tools are used independently, but we recommend you use them in the order mentioned above: thus they seem more productive.
To see the details of their operation follow this link.